Available now on Bandcamp, and other streaming services, The Golden Ticket features 20 tunes and songs from the old time repertoire. It marks one group's journey into exploring both old and new traditions of the fiddle-banjo sound.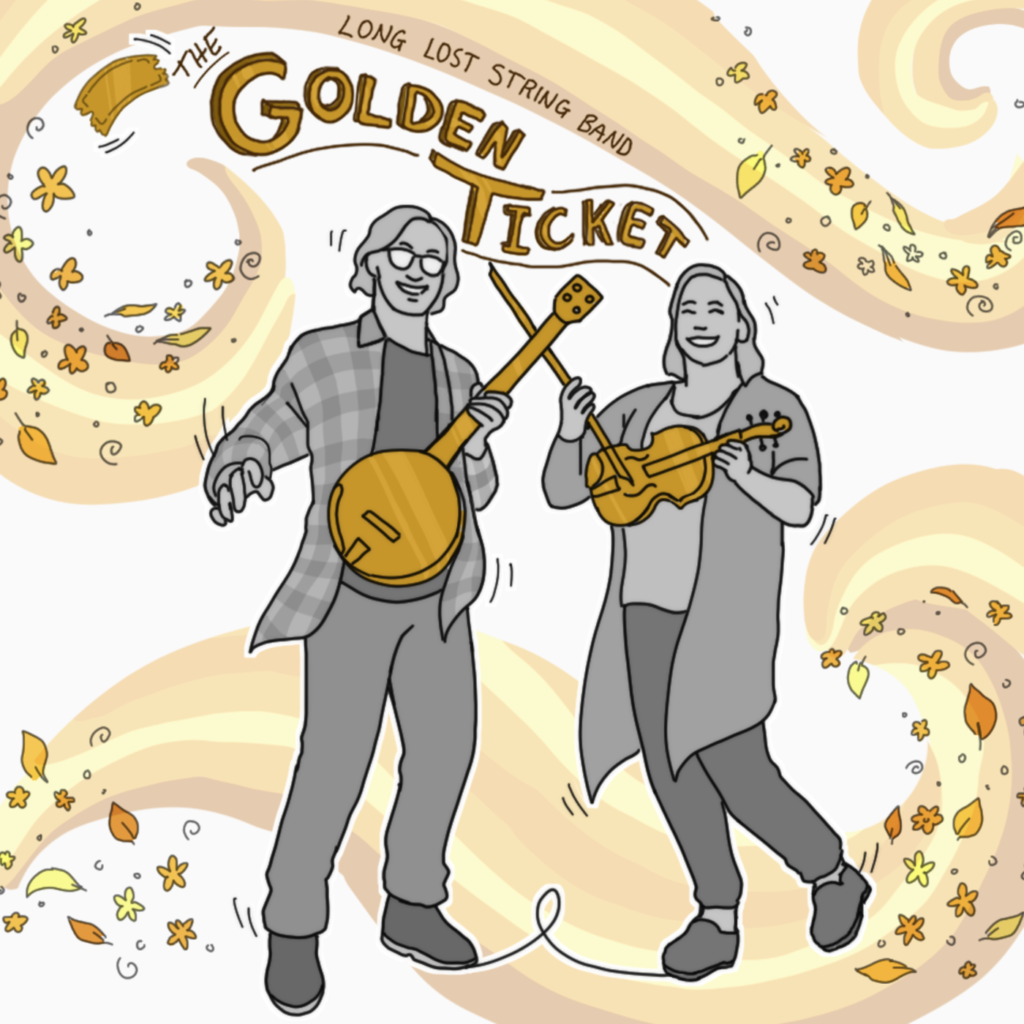 The Golden Ticket is not only the name of a tune on this album, but also the idea that sometimes you are given an opportunity to succeed and it is up to you to take advantage of it. This album makes good on that golden ticket. Of course, it took many hours of learning and practice throughout the year – a year when we had just started to exist before March 2020 put a halt to it! Being relatively new to traditional Appalachian fiddle and banjo music (but not to music), we were like sponges absorbing the vast oceans of information about tunes, songs, players, techniques, and above all, the GROOVE. We hope you enjoy these recordings over and over again. This is only the beginning.
Almost all of the tunes presented here are standard repertoire we picked up from various other sources, including original recordings of the master fiddlers, such as Art Stamper, John Hatcher, John Salyer, James Bryan, Tommy Jarrell and many others as well as contemporary fiddlers. A couple of the tunes are 'new old time' meaning they were composed more recently but have blended seamlessly into the fabric of the old time community. The music is alive and well!
About the musicians
Anne Rouillard (fiddle, vocals). Anne is from Northern Virginia, where she could feel the pulse of the nation, right outside Washington, D.C. She began her musical journey on classical violin at the age of 10, but fell for bluegrass at MerleFest while still in college. A trip to string camp at Ossipee Valley Music Festival sealed the deal, and Anne has been exploring old time and bluegrass fiddle ever since.
Chris Reckling (banjo, guitar, vocals). Born in Houston, Texas, Chris' family moved west to California and then found a home in Phoenix, Arizona. It was there he began playing guitar with friends in high school, leading to a lifelong love affair with music of all types. He took up the banjo about 5 years ago and got the old time bug. Although traditional Appalachian music was always part of their bluegrass band repertoire, this duo has allowed a deeper exploration into the tunes and traditions.
Available on all streaming services including: Bandcamp : : Spotify : : Amazon Music : : Apple Music
---
"Right-click" and Save link.. to download the 44.1 hz 192k mp3.
---
---
---
---
---